Pecans
Pecans, named pakans by Algonquin Indians because of their hard shell, are a native American nut. They are a member of the hickory family and grow in temperate climates. The third ranking crop in the United States, pecans are cultivated in the States of Georgia, Oklahoma, and Texas. They are at their peak when harvested in the fall, but are available year round.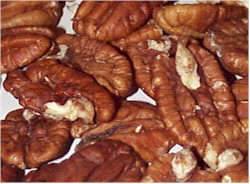 A smooth, reddish-brown, one-inch (2.54 cm) long oval shell encloses two golden-brown crinkled lobes with ivory-colored meat. Pecans have a buttery, soft-textured, slightly bittersweet taste that is enhanced when toasted. Place pecans on a baking sheet and bake for 6-8 minutes in a 350 degree F (180 degree C) oven until lightly browned. Cool before using.
Pecans are used in pastries and desserts such as the famous Southern pecan pie, quick breads, cakes, cookies, candies, pralines and ice creams.
Pecans are one of the more expensive nuts and are sold shelled, either coarsely chopped or in halves, or unshelled. When buying unshelled pecans, look for clean, unblemished, uncracked shells that do not rattle when shaken.
Their high fat content (over 70%) causes them to go rancid quickly so store in the refrigerator (3 months) or freezer (6 months) in airtight containers or plastic bags.
We're still harvesting loads of pecans. We gave a bunch away and shelled most of the rest and put them in the freezer. They taste great on their own but we have started experimenting with different recipes to add a little variety.
Just SOME of the pecans
These are some of the recipes we're playing with
Sugared Pecans
Sugared pecans must be one of the easiest candies to make. No worries about melting sugar, humidity, or candy thermometers. Just coat the pecans with an egg white solution, and then again with some sugar and spices, pop them in the oven and bake for half an hour.
Sugared Pecans Recipe
INGREDIENTS
1 egg white

1 Tbsp water

1/4 teaspoon vanilla extract

8 oz pecans - about 2 cups

1/2 cup sugar

1 teaspoon cinnamon

3/4 teaspoon salt

1/4 teaspoon ground cloves

1/4 teaspoon ground nutmeg
METHOD
1 Preheat oven to 300°F.
2 Put sugar, cinnamon, salt, ground cloves, and ground nutmeg in a plastic bag, shake to mix.
3 Put egg, water, and vanilla in a bowl. Beat until slightly foamy, add pecans and coat well. Lift pecans out of bowl with a slotted spoon and put into the bag of sugar and spices. Shake pecans in bag making sure they are well coated.
4 Bake 30 minutes on a baking pan lined with silpat or lightly greased aluminum foil. 15 minutes into the baking, stir up the pecans with a fork. Let cool completely before serving.
Honey-Glazed Pecans


Dash

ground red pepper

(cayenne)
COOK
pecans, honey and pepper in skillet on
medium-high heat 4 to 6 min. or until mixture
simmers and foams, stirring occasionally.
SPREAD
onto greased baking sheet, separating
slightly with fork; cool completely.
SERVE
in bowl for snacking or add to your favorite
salad.
SIZE-WISE
The balance of sweet and spicy makes these pecans
hard to resist, so keep portion size in mind. This
recipe makes 8 servings.
SPECIAL EXTRA
For spicier glazed pecans, increase ground red
pepper to 1/8 tsp.
















Sweet and Spicy Candied Pecans
Ingredients
Nonstick vegetable oil spray
3 tablespoons light corn syrup
1 1/2 tablespoons sugar
3/4 teaspoon salt
1/4 teaspoon (generous) freshly ground black pepper
1/8 teaspoon cayenne pepper
1 1/2 cups pecan pieces
Preheat oven to 325;°F. Spray baking sheet with nonstick spray. Combine corn syrup and next 4 ingredients in large bowl. Stir to blend. Add pecans; stir gently to coat. Transfer to baking sheet.
Place large piece of foil on work surface. Bake pecans 5 minutes. Using fork, stir pecans to coat with melted spice mixture. Continue baking until pecans are golden and coating bubbles, about 10 minutes. Transfer to foil. Working quickly, separate nuts with fork. Cool. (Can be made 3 days ahead. Store airtight at room temperature.)